After a stellar first season of Shadow and Bone, it's safe to say that expectations were high once the series was renewed, and I fully expected to love Season 2. Unfortunately, a promising first few episodes quickly yield to a messy sophomore effort that jams too many storylines in at once and gives away far too much, too quickly.
While Season 1 did a fantastic job of combining Leigh Bardugo's novels, Shadow and Bone and Six of Crows, Season 2 crams in the plotlines of no less than six of her Grishaverse works — including not only Shadow and Bone but the other two books in the trilogy, Storm and Siege and Ruin and Rising, both of the Crows books, Six of Crows and Crooked Kingdom, as well as parts of King of Scars and The Lives of Saints. While these are all wonderful books (especially the Crows duology), it's a shame that the stories are all combined into one season, which leaves little time to fully appreciate what's going on in one plot before we're whisked off to a different one entirely.
That's not to say that Season 2 doesn't lend itself to truly awesome scenes. The Darkling's (Ben Barnes) return is both epic and badass. He's the villain of the story, but it's hard not to be thrilled that he didn't really die from a volcra attack at the end of Season 1. He's more menacing and more unhinged than he's ever been before, and he's hell-bent on revenge. Even then, Barnes' portrayal has a trace of humanity that makes you almost root for him, even when he's doing terrible things. Like other iconic villains — Erik Killmonger (Michael B. Jordan) in Black Panther comes to mind — you kind of understand where Kirigan is coming from and what he's trying to accomplish, even though his methods can veer towards heinous. Barnes is clearly having fun with this role, and it's electric to watch. The Darkling, in short, is one of the highlights of the season. He's deliciously evil, and fans are sure to eat it up.
RELATED: 'Shadow and Bone' Season 2: Release Date, Cast, Trailer, and Everything You Need to Know
There's the main star of the show, of course, in Alina (Jessie Mei Li). After learning to own her power in the first season, she's hungry for more. This season sees her on the hunt for not one, but two of Morozova's legendary amplifiers, the Sea Whip and the Firebird. Once she learns that the Darkling has survived, she's even more determined to tear down the Fold and defeat him for good. Her confidence has grown — to an almost cocky level — and now that she's reunited with her childhood friend and true love, Mal (Archie Renaux), she's stronger than ever. She's a compelling protagonist, but the more colorful characters around her sometimes overshadow her presence.
Among the season's new characters are the privateer and adventurer Sturmhond, aka the prince of Ravka, Nikolai (Patrick Gibson), as well as the warrior twins Tolya (Lewis Tan) and Tamar (Anna Leong Brophy). Each of their entrances to the series makes you want to cheer; they're perfectly cast, almost exactly as you likely pictured them in the books. As the story goes along, however, there is a bit of overacting, which one expects in a fantasy series, but at certain points, it becomes distracting from the story — and with all that's going on in this season, distraction is not necessarily a good thing. In fact, it's tough to even summarize Season 2, because there is so much happening. Alina and Mal join with Nikolai, Tolya, Tamar, and others to try to find the last two amplifiers and defeat the Darkling. At the same time, Kirigan is building his own army of Grisha and wielding the deadly shadow monsters he created in the Fold, called nichevo'ya.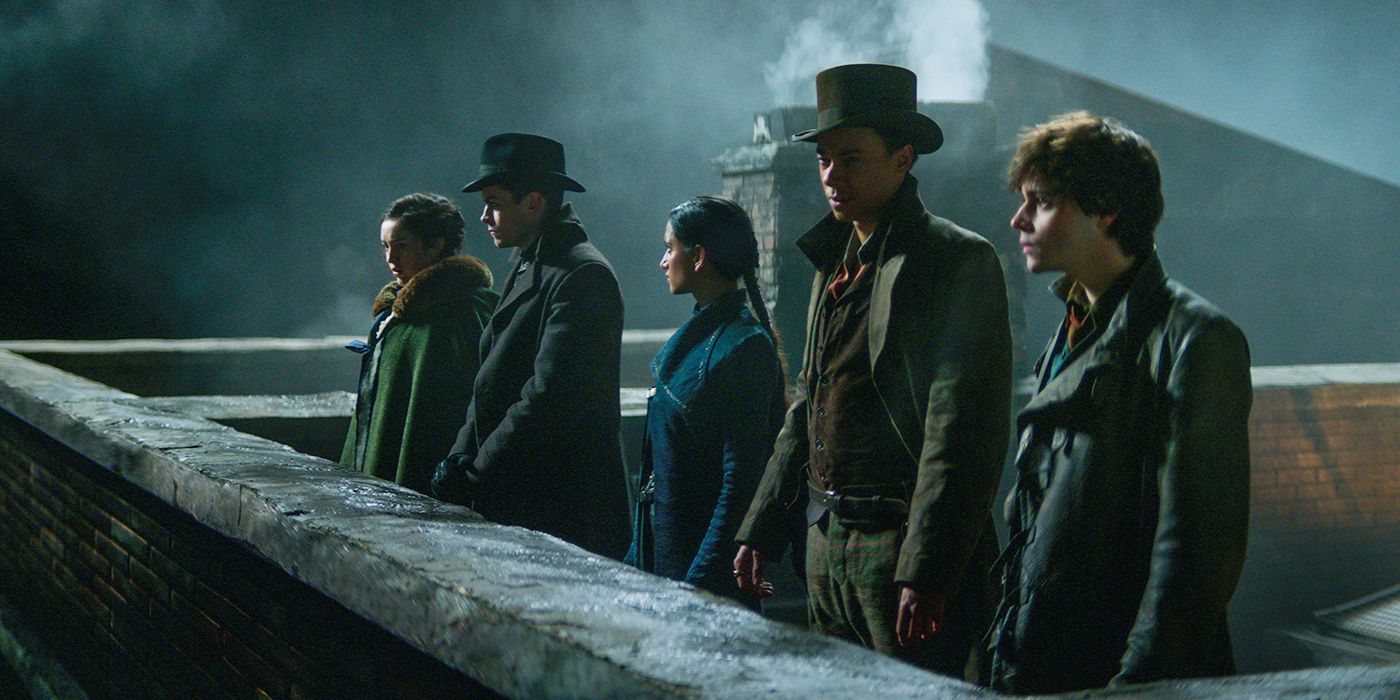 Meanwhile, in Ketterdam, our beloved Crows are in a battle for control of the Barrel, and at the same time, find themselves tasked with yet another heist for the Sun Summoner. When last we saw the Crows, they were headed back home, and their return to the series is another one of those cheer-worthy moments. Naturally, they wouldn't be the Crows if there wasn't trouble afoot, and it finds them quickly, as they discover they've been framed for murder. Soon, the original Crows — Kaz (Freddy Carter), Inej (Amita Suman), and Jesper (Kit Young) — are joined by new additions to the group in Heartrender Nina (Danielle Galligan) and explosives expert Wylan (Jack Wolfe).
The relationship between Jesper and Wylan (Wesper, for the shippers out there) is a fan-favorite part of the Crows duology, but in Netflix's version, there is no such thing as a slow burn. In fact, when we first encounter Wylan, we quickly learn that he and Jesper have met before; not only that, they've already spent a night together. This is a huge departure from the books, and it's beyond disappointing not to see the affection between them slowly build across the season. On a positive note, it is great to see a gay couple accepted in this world as naturally as any other, but I did sorely miss the slow burn of Wesper in the books, and the way it's so rushed in the series was a bit of a letdown.
Another disappointment happens with regard to Matthias (Callahan Skogman), who becomes a member of the Crows in his own right in the books. At the end of the first season, after being shipwrecked and forming an adorable bond with Nina, she publicly accuses him of being a slaver in order to save him from being apprehended by the Darkling's Grisha. As a result, Matthias is shipped off to Hellgate, where he languishes without hope of freedom. Nina attempts to mount a rescue effort, but with so many other storylines to navigate, it doesn't come to fruition, and so poor Matthias is left to try to survive in the hellish prison with no hope for freedom. Despite Nina referring to Matthias as the love of her life, after a certain point, she seems to forget all about him in favor of going on another adventure. Perhaps there'll be a Crows plan to rescue him eventually, as happened in the books, but before then, there are virtually no heists at all, and the one that does occur is rushed, like almost everything else this season.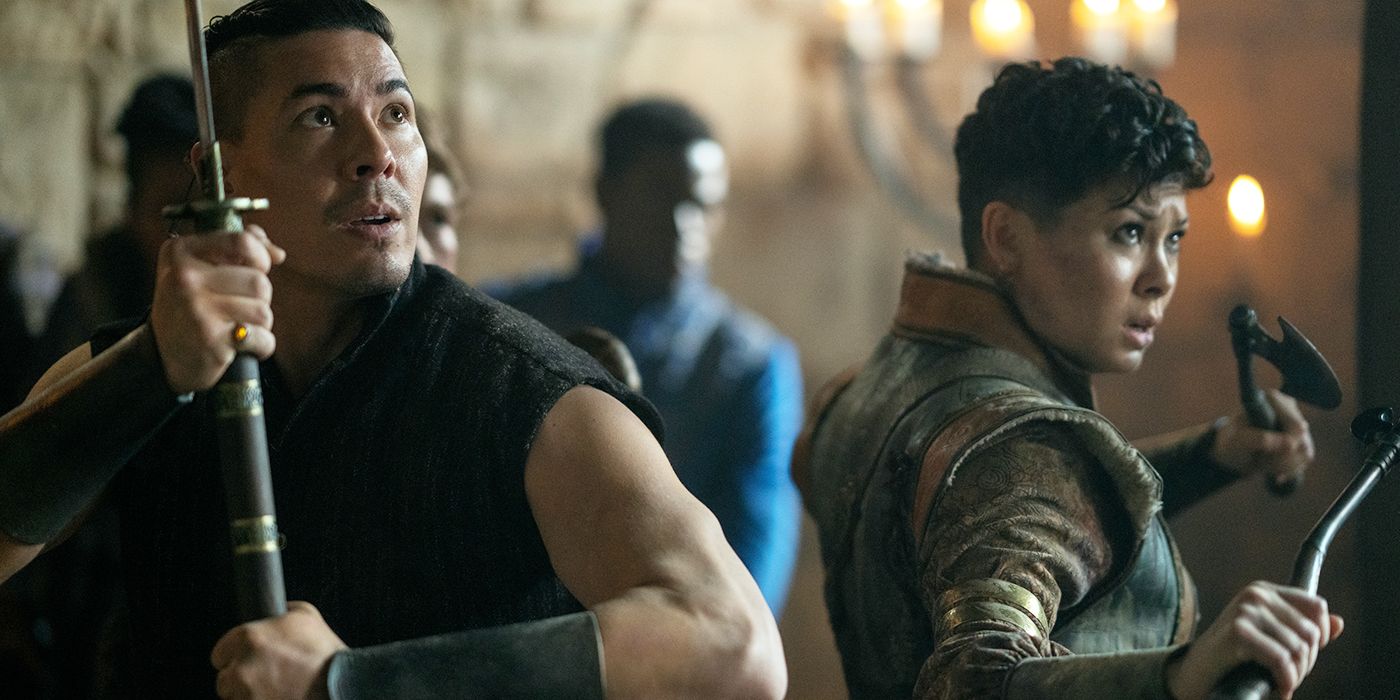 Despite all the setbacks, there are some flashes of brilliance in Season 2. The first episode, directed by Bola Ogun, is what I wish the whole season had been like. The initial appearances of all the characters, both returning and new, are well done, and the choice to include animated maps of Ravka, Novyi Zem, and Ketterdam is also a nice touch. The premiere is the episode that bears the biggest resemblance to Season 1 overall, and it does achieve the perfectly blended atmosphere that is lacking from later episodes. The action doesn't let up, and it's accompanied by the sense of just how good it feels to be in the Grishaverse again. The second episode, too, is solid. Kaz's backstory is introduced, which was surprising to see so soon, and there's the first semblance of a heist.
Where this season of Shadow and Bone all goes awry is in Episode 3, when too many stories begin to be told simultaneously. Episode 7 reintroduces a glimmer of hope for awesomeness with a few kickass battle sequences, but the finale throws in some unexpected curveballs, including a few WTF events that may leave fans more confused than delighted. Overall, Shadow and Bone Season 2 is more of a lackluster and uneven follow-up, but still remains an entertaining ride from start to finish.
Rating: B-
Shadow and Bone Season 2 premieres March 16 on Netflix.